Customer Service Associate
Job ID 794600BR
Location 6565 SAINT ELMO RD , BARTLETT, TN
Schedule Full-time
Apply
Overview
As a Customer Service Associate, you are the face of Walgreens – the person who helps fulfill our mission of making people's lives a little easier. Along with providing friendly, courteous and efficient service to our customers, Customer Service Associate are also responsible for everything from cash register operations and customer service to merchandising, store inventory and maintaining store signage and displays. It's a great introduction to the Walgreens organization, with opportunities to excel in this position for years to come or explore a variety of opportunities.
Full-time

Level:

Entry-Level

Travel:

0%
Glassdoor Rating:
70%
overall rating
Success Profile
Our employees know what it takes to stay ahead of current trends and help patients be well every day. The following attributes are critical to your success in this role. Additional, related traits are also listed below.
Communicator

10

Trustworthy

10

Efficient

9

Helpful

9

Responsible

9

Multi-tasker

8
010
Team Player
Personable
Problem Solver
Flexible
Positive
Adaptable
Compassionate
Self-Starter
"Our Customer Service Representatives are the ones on the front lines; they know what our customers wants and needs are."
–Trini, Store Manager
Trending
Meet Velma
A long time Customer Service Associate with Walgreens, Velma exemplifies what it means to champion health and well-being in her community.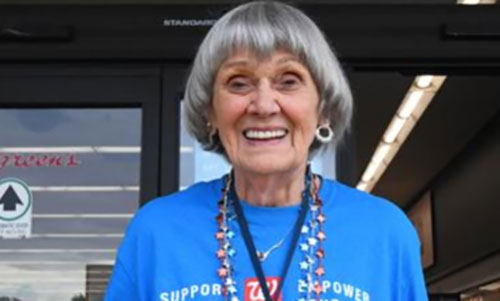 Learn more
Benefits
Healthcare

Medical/Dental with 30 hour average week

PTO

Vacation (after 6 months)

Employee discount

Walgreens employees and their immediate families are entitled to a 15% discount on most purchases at any Walgreens Store and 25% on Walgreens brand products.

Retirement planning/saving

Company matching helps employees secure their financial future and reach their retirement savings goals.

Flexible hours

Training programs

Business schools
Responsibilities
Models and delivers a distinctive and delightful customer experience.
Registers sales on assigned cash register, provides customers with courteous, fair, friendly, and efficient checkout service.
Customer Experience
Engages customers and patients by greeting them and offering assistance with products and services. Resolves customer issues and answers questions to ensure a positive customer experience.
Models and shares customer service best practices with all team members to deliver a distinctive and delightful customer experience, including interpersonal habits (e.g., greeting, eye contact, courtesy, etc.) and Walgreens service traits (e.g., offering help proactively, identifying needs, servicing until satisfied, etc.).
Operations
Provides customers with courteous, friendly, fast, and efficient service.
Recommends items for sale to customer and recommends trade-up and/or companion items.
Registers customer purchases on assigned cash register, collects cash and distributes change as requested; processes voids, returns, rain checks, refunds, and exchanges as needed.
Keeps counters and shelves clean and well merchandised, takes inventory, and maintains records. Checks in and prices merchandise as required or as directed by store manager or communicated by the shift leader.
Implements Company asset protection procedures to identify and minimize profit loss.
Ensures compliance with state and local laws regarding regulated products (e.g., alcoholic beverages and tobacco products).
Constructs and maintains displays, including promotional, seasonal, super structures, and sale merchandise. Completes resets and revisions as directed.
Assists with separation of food items (e.g., raw foods from pre-cooked) and product placement as specified by policies/procedures (e.g., raw and frozen meats on bottom shelves). For consumable items, assists in stock rotation, using the first in, first out method and restock outs.
Has working knowledge of store systems and store equipment.
Provides customer service in the photo area, including digital passport photo service, poster print and creative machine, suggestive sell of promotional photo products.
Assumes web pick-up responsibilities (monitors orders in Picture Care Plus, fills orders (pick items), delivers orders to customers as they arrive at store).
Assists with exterior and interior maintenance by ensuring clean, neat, orderly store condition and appearance.
Complies with all company policies and procedures; maintains respectful relationships with coworkers.
Completes special assignments and other tasks as assigned.
Training & Personal Development
Attends training and completes PPLs requested by Manager or assigned by corporate.
Basic Qualifications

Must be fluent in reading, writing, and speaking English. (Except in Puerto Rico)
Requires willingness to work flexible schedule, including evenings and weekend hours
Preferred Qualifications

Prefer six months of experience in a retail environment.
Prefer to have prior work experience with Walgreens.
Prefer to be fluent in reading, writing, and speaking English. (Except in Puerto Rico)
Requires willingness to work flexible schedule, including evenings and weekend hours.
The following information is applicable for San Francisco, CA applicants: Pursuant to the San Francisco Fair Chance Ordinance, we will consider for employment qualified applicants with arrest and conviction records.
An Equal Opportunity Employer, including disability/veterans.
The following information is applicable to Colorado only, in accordance with the Colorado Pay Equity Act. Please review the available benefits and salary available for this position by clicking here: jobs.walgreens.com/benefits. Walgreens will provide applicants in other states with information related to the position, to the extent required by state or local law, by calling 1-866-967-5492.
Current
team member
job search
Search
Career

areas

Pharmacy, in-store,
corporate & distribution

Learn more
Life at


Walgreens

Help people get and
stay
well every day.

Learn more
To top of job description