Meet Sadia - from pharmacy technician to manager, field talent acquisition
Sadia Maloy always knew she wanted to work in the healthcare field. After earning her bachelor's degree in chemistry from Georgia State University, Sadia started her career as a pharmacy technician at a competitor of Walgreens. Her experience as a pharmacy technician gave her a foundation to grow and thrive in her subsequent roles at Walgreens, where she applied her knowledge and expertise to support retail stores and talent acquisition needs.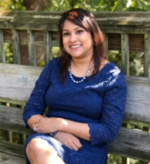 "The opportunities to grow your career at Walgreens are limitless," shares Sadia. During her years as a pharmacy technician, she acquired valuable training and development skills, enabling her to assist customers in improving their health and live more joyful lives. Her duties enabled her to develop strong problem-solving and communication skills to understand and address her customers.

Sadia Maloy, manager, field talent acquisition
Choosing to grow her career at Walgreens
In her next role as an operations trainer, Sadia conducted training and development programs for store managers across five districts, covering 100 Walgreens stores. Her responsibilities included delivering effective training sessions, monitoring the progress of trainees, identifying areas for improvement, and implementing changes to enhance the overall efficiency of store operations. Sadia's ability to adapt to her new role provided exceptional support to many team members at Walgreens.
After holding the position of an operations trainer, Sadia transitioned to become an organizational learning specialist, where she spent three years bringing insights in HR, performance management, and training development to eighty-five stores across six districts. During this time, she developed a passion for talent acquisition, which led her to work as a recruiter for almost a decade. In her role as a recruiter, Sadia brought many new team members to the organization, ranging from pharmacy recruitment to community management interns and entry-level pharmacists, leveraging her expertise in identifying and attracting top talent.
The key to success
Sadia emphasizes the key to success is to identify your strengths and continuously work on developing skills throughout your professional journey. Knowing this information about yourself can help you find the best opportunities for success in your career. She also believes that lifelong learning is crucial to staying competitive and increasing chances for future success. For Sadia, the opportunities at Walgreens gave her the chance to learn and grow her career. Getting a job at Walgreens is just the beginning because there are many career paths waiting for you.